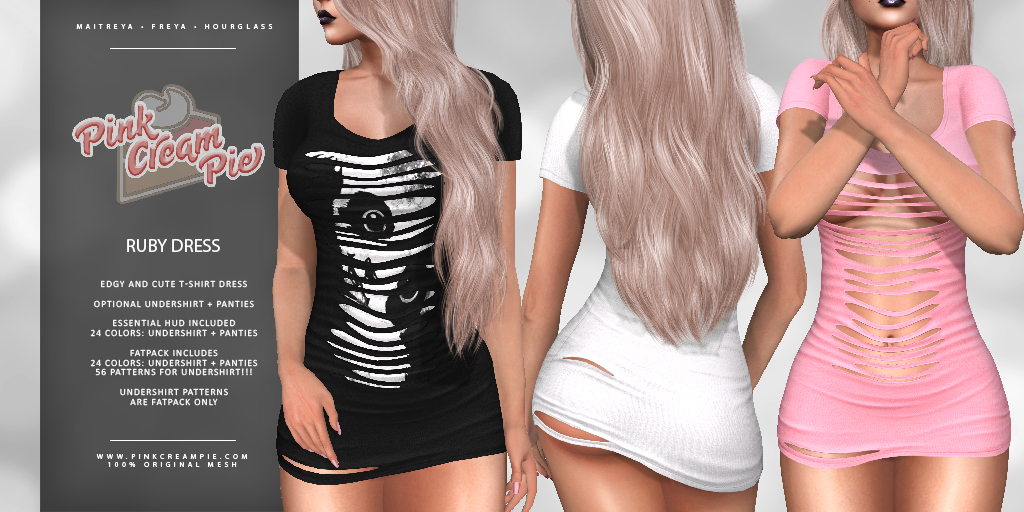 t's been far too long since a mainstore release! Ruby is coming to Pink Cream Pie tomorrow at 12P.M. SLT! But first a giveaway!
𝗧𝗼 𝗲𝗻𝘁𝗲𝗿 𝘁𝗵𝗶𝘀 𝗴𝗶𝘃𝗲𝗮𝘄𝗮𝘆 𝘆𝗼𝘂 𝗻𝗲𝗲𝗱 𝗼𝗻𝗹𝘆 𝗰𝗼𝗺𝗲 𝗶𝗻𝘁𝗼 𝘁𝗵𝗲 𝘀𝘁𝗼𝗿𝗲 𝗮𝗻𝗱 𝗰𝗹𝗶𝗰𝗸 𝘁𝗵𝗲 𝗴𝗶𝘃𝗲𝗮𝘄𝗮𝘆 𝗯𝗼𝗮𝗿𝗱 𝘁𝗼 𝗲𝗻𝘁𝗲𝗿 ♥
→ https://tinyurl.com/PinkCreamPieMainStore
If you love this as much as I do, feel free to love and share it! I greatly appreciate your support but know that this will have no impact on your chances to win ♥
Ruby is an edgy and cute T-Shirt Dress!
Optional Undershirt + Panties
Essential Hud
Undershirt + Panties [24 colors]
Fatpack Options
Undershirt + Panties [24 colors]
Undershirt Patterns [56 Patterns!!!!]
The patterns are fatpack exclusive to this one! I couldn't stop myself and made far too many to separate them. Even if I separated them, the price would be the same, so I figured you might as well get it all! ♥
𝗠𝗮𝗶𝘁𝗿𝗲𝘆𝗮 • 𝗙𝗿𝗲𝘆𝗮 • 𝗛𝗼𝘂𝗿𝗴𝗹𝗮𝘀𝘀
** Be sure to pick up the demo and try out all the options!
I hope you love them as much as I do!
♥ Vay
■ Store https://tinyurl.com/PinkCreamPieMainStore
Giveaway winner will be drawn May 28th at 12P.M. SLT 
🙂