Exciting news! Pink Cream Pie has switched over to a custom vendor system!  Please read below for many of the changes that we have for the store and how to purchase items.
The Basics
To purchase products, you have several options.  You can purchase directly with lindens, gift to a friend, use your store credit.
To Purchase with Lindens
1. Left click the vendor to open the pay box or right click the vendor and click Pay.  Your total will show and you will receive the item as soon as you pay.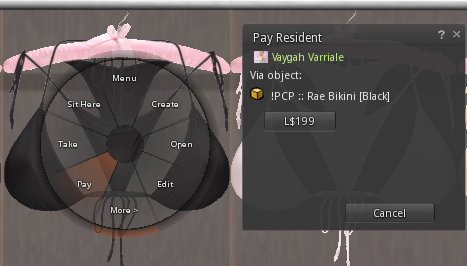 To Purchase using Store Credit
1. Right Click the vendor and go to Touch or Menu.
2. Click Use Credits then click Yes
3. The vendor will then send you the item using your credits or tell you that you don't have enough.
Adding Store Credit
1. On the infoboard at the front of the store you can manage your credit by clicking "Manage Your Store Credit".
2. Clicking on it will tell you how much credit you have.
3. Right click and pay it to add store credit to your account.
Gifting a product
1. Right Click the vendor and go to Touch or Menu.
2. Click the Gift To button.
3. Type in the legacy name of the avatar you want to gift to and click submit.
4. Wait for the vendor to approve your purchase in local chat and then pay the vendor.
Gift Cards
5/31/20 Update: Gift cards are now connected to the vendor system! You can purchase them at the front of the store in many increments using the gift card kiosk.
Buying a gift card
1. Click the gift card to be given one.
2. Wear the gift card.
3. Choose the value you want to load onto it.
4. Pay the vendor to activate it.
Using a gift card
1. Wear your gift card.
2. Click it to redeem.

2/22/19 Update: I will be incorporating gift cards into this new system soon, but for now the old cards will still work that are not connected to a system ♥
As of this writing, (11/18/18) Pink Cream Pie Gift Cards are not hooked up to any vendor system. This is so that they will never expire.  Rather you can purchase them in the store in increments of, L$100, L$250, L$500 or L$1000 and turn them into Vaygah Varriale for store credit.  They are transferable and you can send them to whoever you wish, by manually giving the card over to them ♥
Redelivery
You can get a redelivery of any purchases you've made by clicking the redelivery terminal in the front of the store. Clicking this button on the infoboard will take you to a website where you can redeliver your purchases.
Helpful tips and Frequently Asked Questions.
• Auto Alpha: Pink Cream Pie tries to take the guess work out of having to alpha by sometimes including auto alpha scripts in clothing.  Sometimes when you wear two items that both have conflicting auto alphas it can have a goofy result.  I recommend taking off an item completely and resetting your hud and then adding the clothing.
• Missing Products: First of all don't panic.  Sometimes in SL, things can get wonky.  Try going to a place you have rez rights and rezzing the pie on the ground, right clicking it and clicking Open then Copy to Inventory.  You should see the missing item now.  If you still don't see the item, please contact Vaygah Varriale in world so that I can assist you as there might have been a mistake and I will do my best to fix it as soon as possible.
• Demos: Pink Cream Pie demos are available for every purchase.  The most recent products have a demo tag attached to them and include the full fatpack hud to try every option you can think of so that you can be sure that Pink Cream Pie products are right for you!
However, there are older products that still use a timed demo script that allows you to view the full version of a product with the complete fatpack hud allowing you to see all of the textures and options for 10 minutes.
• What happened to the monthly VIP store credit we used to get and the promo code?
Unfortunately, the vendor system that I used to use, E2V, has retired and there is no longer that option to reward a monthly VIP store credit.  While we were using MDLabs, I took advantage of their promo code feature.  With the new custom vendor we are on there are no options available for a perk similar to this, yet. I am constantly working on new ways to spoil you pies so stay tuned.  Something is sure to come along ♥
What happened to E2V? E2V announced it's retirement for May 31st, 2018.  I have imported past sales data and store credits from the old system into the new system. In the meantime, we used MDLabs until a more personal system was available as of February 21st, 2019. I am still waiting to be able to import store credits and sales transactions.
♥ Vaygah.Varriale