Exciting news! Pink Cream Pie has switched over to using MD Labs Vendor System.  Please read below for many of the changes that we have for the store and how to purchase items.
What happened to E2V? E2V announced it's retirement for May 31st, 2018.  I have imported past sales data and store credits from the old system into the new system.
The Basics
To purchase products, you have several options.  You can purchase directly with lindens, gift to a friend, use your store credit, a gift card or a promo code.
Quick pay: Right click the vendor and click Pay.  Your total will come up as you're used to and you will receive the item as soon as you pay.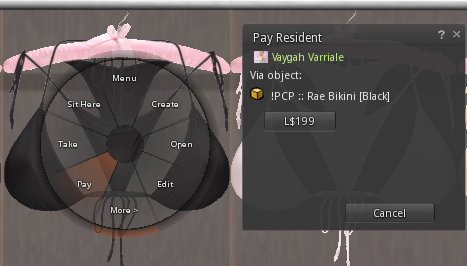 Buy Options: Left click on the vendor to bring up a user menu.  Click on Buy and you're given the following available payment methods. Store Credit, L$, Gift Card or Promo Code. Please note that you cannot combine multiple payment methods.  For example, you cannot use a gift card with store credit, nor can you use store credit with a promo code. You will also see the amount of store credit you will earn with this purchase if you are a Pinky Pie \o/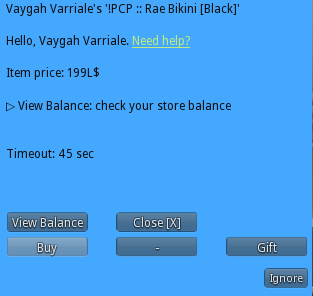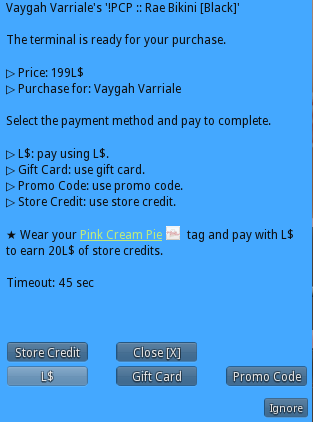 Pressing the L$ button is essentially the same thing as Right clicking the vendor and clicking Pay.
Using Store Credit: Click on Store Credit and the menu will tell you how much you have and have you pay the difference.  Click the L$ button and you can now pay the vendor the difference.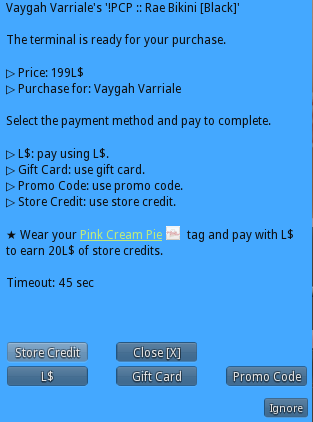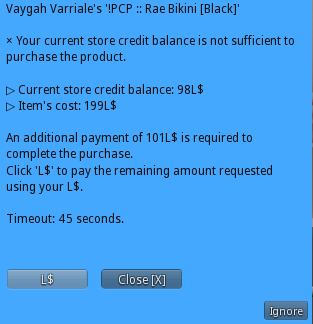 Using Promo Codes: Click on the Promo Code button and enter the promo code and press submit. You will then get a dialog letting you know if your code is valid or not. If it is valid, you can close the dialog box and pay the vendor the difference for your discount.  The monthly Pink Cream Pie VIP group code will only be usable one time per avatar within a certain time frame.  You must also pay the difference with linden as the system will not allow you to pay the difference with store credit or a gift card.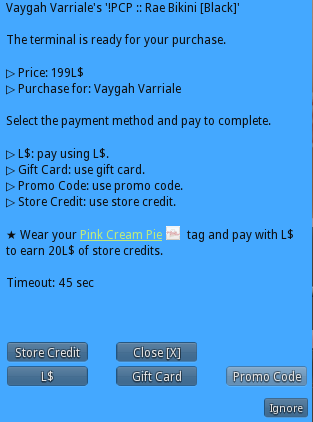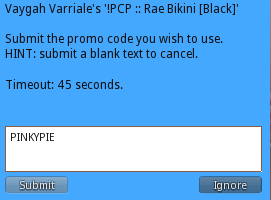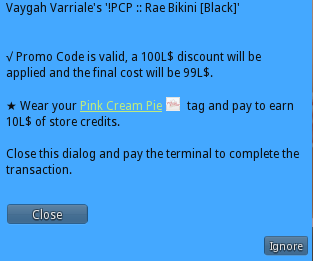 Buying as a Gift: Click on the Gift button and enter the avatar name or UUID of the avatar you wish to send a gift to and click submit. You will then return to the Buy menu and if your avatar name/uuid was valid, the dialog box will say ►Purchase for: Avatar Name.  You can then proceed to purchase the product for that person using the options available to you.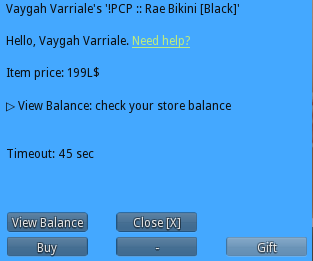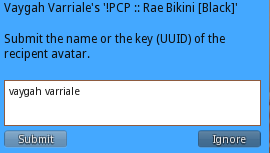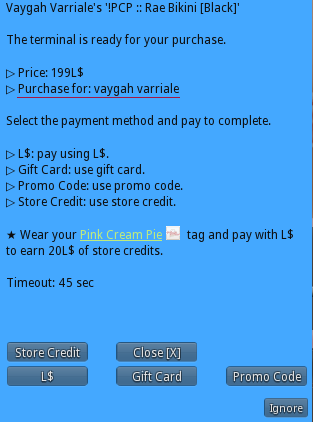 Gift Cards
As of this writing, (11/18/18) Pink Cream Pie Gift Cards are not hooked up to any vendor system. This is so that they will never expire.  Rather you can purchase them in the store in increments of, L$100, L$250, L$500 or L$1000 and turn them into Vaygah Varriale for store credit.  They are transferable and you can send them to whoever you wish, by manually giving the card over to them ♥
Redelivery
You can get a redelivery of any purchases you've made by clicking the redelivery terminal in the front of the store. Clicking this button on the infoboard will take you to a website where you can redeliver your purchases.

Helpful tips and Frequently Asked Questions.
• Auto Alpha: Pink Cream Pie tries to take the guess work out of having to alpha by sometimes including auto alpha scripts in clothing.  Sometimes when you wear two items that both have conflicting auto alphas it can have a goofy result.  I recommend taking off an item completely and resetting your hud and then adding the clothing.
• Missing Products: First of all don't panic.  Sometimes in SL, things can get wonky.  Try going to a place you have rez rights and rezzing the pie on the ground, right clicking it and clicking Open then Copy to Inventory.  You should see the missing item now.  If you still don't see the item, please contact Vaygah Varriale in world so that I can assist you as there might have been a mistake and I will do my best to fix it as soon as possible.
• Demos: Pink Cream Pie demos use a script that allows you to view the full version of a product with the complete fatpack hud allowing you to see all of the textures and options for 10 minutes.  I prefer this method so that you can see exactly what you are going to get when you purchase an item.  For me, it's not just about the fit and if the mesh moves well with you.  It is important to me that you see the quality of the textures that you are receiving as well.  If 10 minutes is not long enough for you to go through the options, you can always pick up another demo and keep trying it out for another 10 minutes!
• What happened to the monthly VIP store credit we used to get?
Unfortunately, the vendor system that I used to use, E2V, has retired and there is no longer that option to reward a monthly VIP store credit.  However, in place of this option, I have created a PROMO CODE with the new system we are using that you can enter into a vendor of your choosing for a L$100 discount off the price of a product.  You must be in the Pink Cream Pie group and have your Pinky Pie tag active in order to use the code.  You can use this once per month.  PROMO CODE: PINKYPIE
♥ Vaygah.Varriale