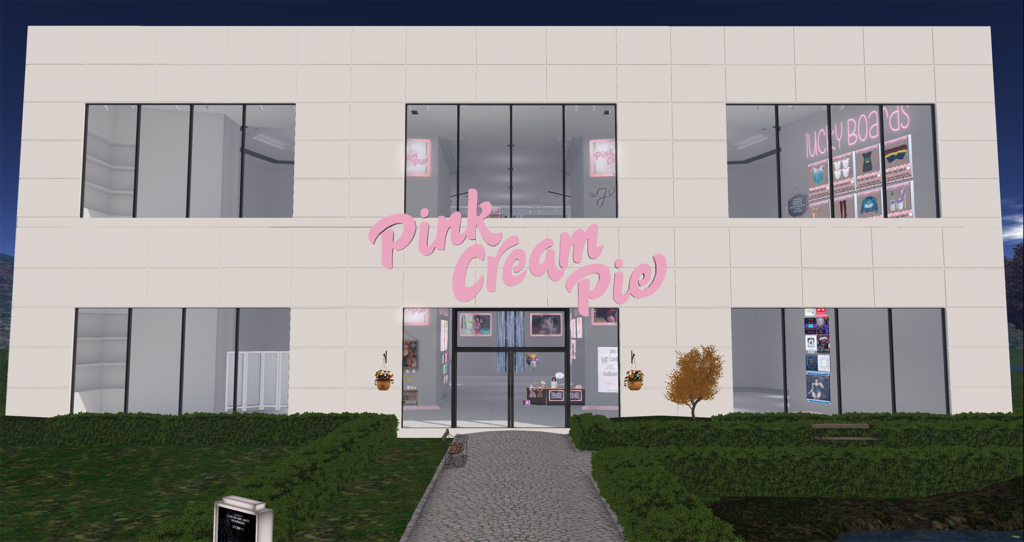 Pink Cream Pie began as a group between friends who had a laugh about similarities they shared.  At the time it was the fact that we were all dressed in pink by accident and due to our silly, rotten nature, Pink Cream Pie became to us what the Pink Ladies is to Rizzo and Frenchy. Soon the group began to grow into more silliness and fun as Vaygah quickly began creating gestures that truly captured the silliness that ensued on a nightly basis between good friends. Vaygah has a natural drive to create and soon creating gestures pushed into making wall decals and now clothing.  Pink Cream Pie continues to grow as Vaygah draws inspiration from her close friends and family, which none of this would be possible without their continued support and encouragement!  Pink Cream Pie originally started in a little hut in what was known as The Private Club.  It has now grown into it's own main store.
Pink Cream Pie is a mesh clothing store creating for Maitreya, Slink and Belleza.  You can look on each ad for the clothing to see if your body is supported or sized for that item.
Joining the group also has it's perks! You can stay up to date in world as sales and new releases come out.
Benefits :
• Monthly Group Gifts!
• L$ 100 Monthly Store Credit
• 10% In Store Credit on purchases
• Occasional promotions!
• A fun tag to display over your head!
Pink Cream Pie also likes hearing what you think! Leave an honest review on the Facebook Page and receive one free gesture of your choosing! Also, if you are the first customer to leave a review on a marketplace item that you've purchased you will receive a gift card for L$200!  Be sure to contact Vaygah via the online form to let her know that you've left a review so that she can send you a partial refund for taking the time to let her know how she's doing.
For a full list of what is currently for sale, please visit the marketplace or visit Pink Cream Pie in world.